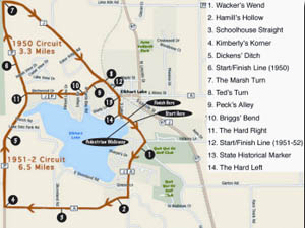 The County roads and Village streets that made up the original 1950 Elkhart Lake Race Course and 1951/52 Course still exist and are in public use today. The only exception is a short 500 yard section of South Lake Street that has been converted into a pedestrian walkway in front of the Osthoff Resort. For years sports car enthusiasts and racing history fans have toured the circuits on an informal basis and in recent year organized police escorted tours have been held in on the circuits in conjunction with special events such as the July Vintage Race Festival. Although the walkway is officially a village street and constructed of materials capable of baring vehicular traffic, it had never been used for circuit tours until 2006 when the Village granted permission for the Dedication Ceremony celebration tour. Tours usually started on the south side of the walkway and finished on the north side without actually crossing the walkway.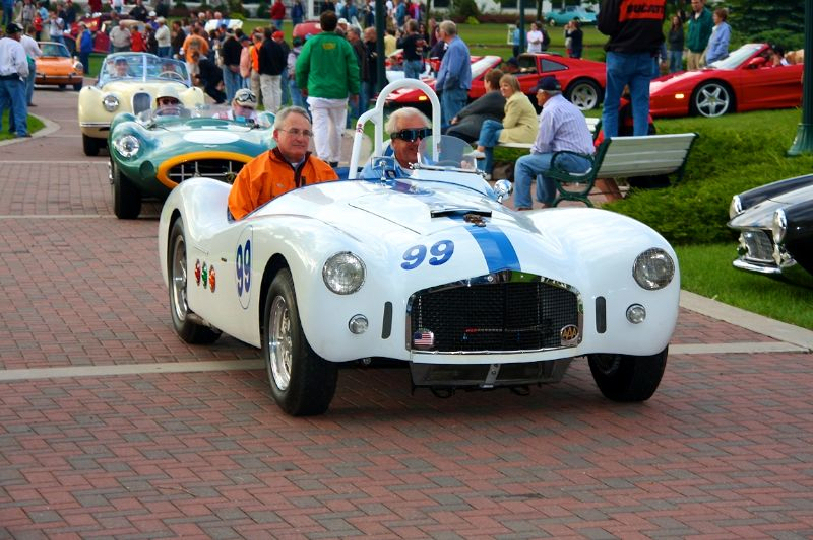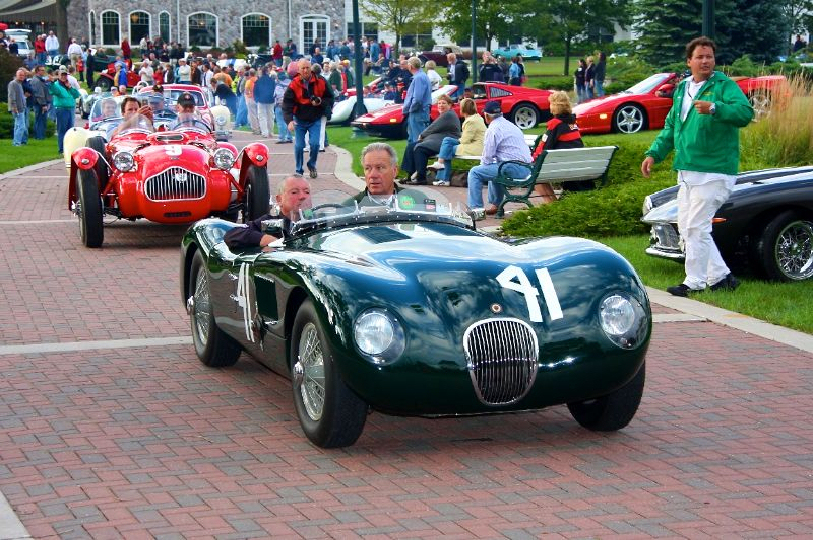 For the once in a lifetime 60th Anniversary Celebration of the original races, the Village again granted special permission for reenactment vehicles to traverse the walkway with their cars so as to experience the whole original course.
Over eighty sports cars and racing cars lined up for the 5:30 PM start of the Reenactment. Over fifty cars from the Car Show event where staged on the Walkway and nearly thirty VSCDA cars were escorted from Road America and staged on South Lake Street.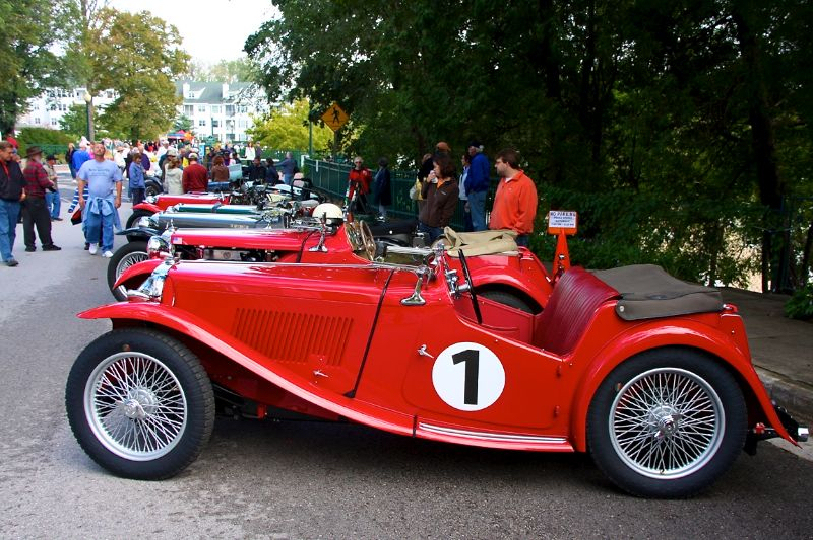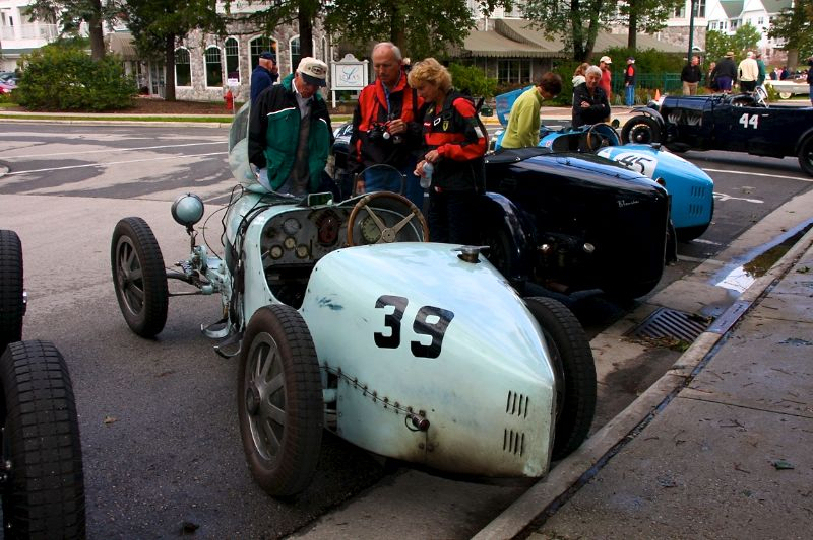 Making the 60th Anniversary Reenactment Tour more authentic than any previous tour, one hundred straw bales were place at the major corners with corner workers on hand baring period wooden "flags" that had actually been used in the original races. Of course they were also well armed with cameras as this was a photographers dream come true.
Traffic control insured that the reenactment vehicles would be able to complete the symbolic lap of the course safely and without interruption The Fond du Lac Ham Radio Club provided corner communication, as was done in the original races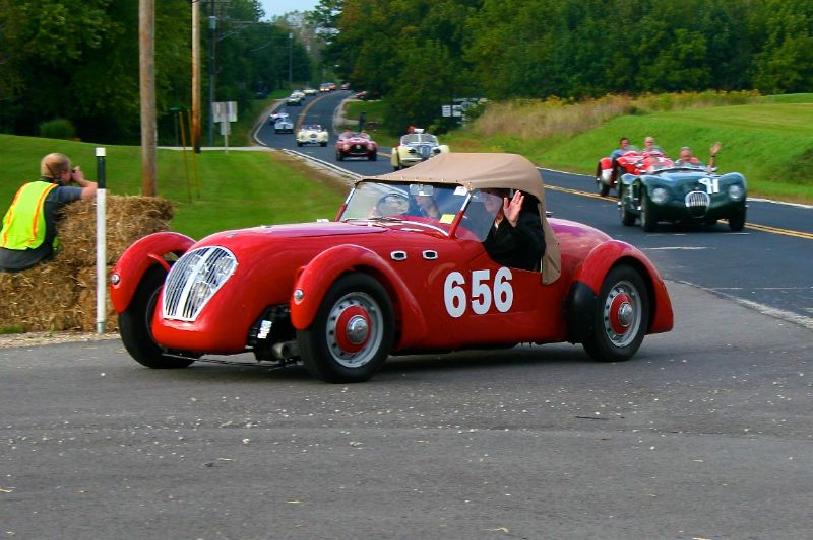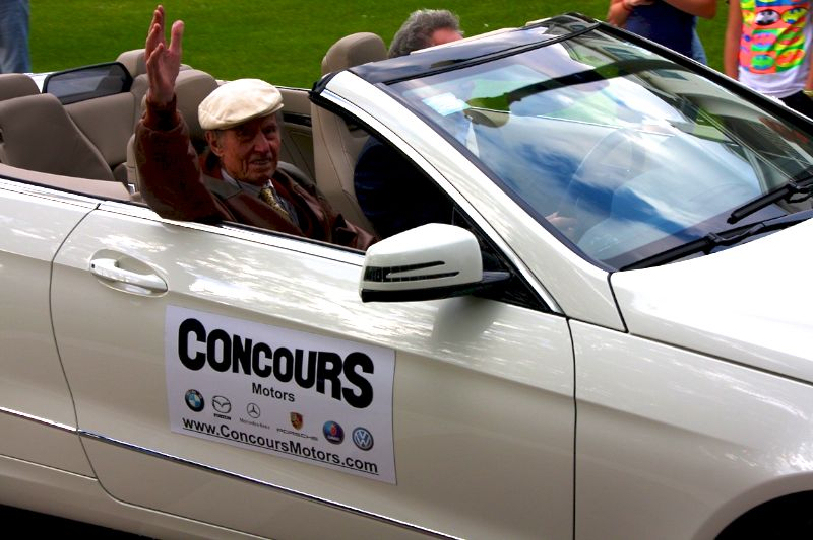 As the starter waved a green flag, Elkhart Lake Police Chief Randy Boeldt led the open Mercedes parade car with Grand Marshal John Fitch off from the Walkway followed by the participants on rapid, non-stop tour of both the 1951-52 circuit and the original 1950 circuit.
The cars were cheered on by numerous spectators as they traversed the course. As the cars approached the original 1951/52 finish line at the old feed mill they each received the checkered flag waved by an energetic flagman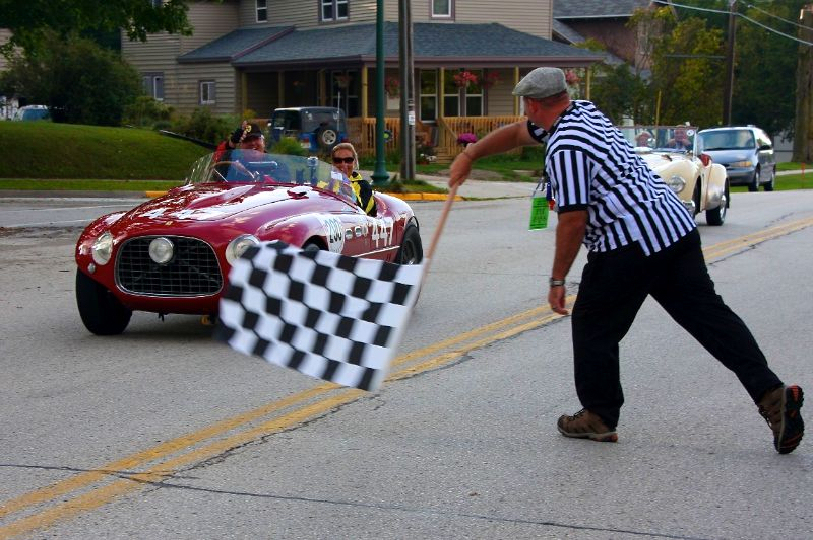 The last car in the tour (the sweep car), a 1951 Chevy sedan driven by Village President Alan Rudnick stalled on the course but was quickly rescued due to the quick communications provided by the Fond du Lac ham radio club.
After all cars had returned safely, the VSCDA race cars were police escorted back to Road America, the Car Show cars returned to the Osthoff lawn where, downing a quick Schlitz or two, everyone celebrated the success of a great event
A Special Thank You to
CONCOURS MOTORS
Sponsor of the 2010
60th Anniversary Road Course Reenactment
5990 North Green Bay Avenue, Milwaukee
(414) 290-4360